5 reasons why 'letting agent' blogs dont work.
Ok, you have decided to write your blog, a blog about your local property market because this guy says it will get you more landlords flooding to your door .. and because most agents are a competitive bunch, you want to be great at it, you want your blog to be the best.
But here is the problem, it's not like we get a lot of direct (and honest) opinions about how great we actually are… I mean, in the real world, your mates and family will tell you that you are the best. Yes, you will always get the vampires and 'scumsuckingpondlife' that will tell you that you're rubbish, but you ignore them, or do you? The problem is, but I find in life, the negative comments always seem to stick more than the positive ones, and the things your friends say … well, they just don't have the guts to say anything bad. So how can you find out for sure? (I don't know about you, but the misery of losing a property to the competitor is much deeper than the happiness of getting the instruction when you were up against every agent in town).
So, you want to be a great blogger? This is what a great blogger looks like…
The biggest difference is that being a great blogger is not the same thing as being a great writer. Writing is a single activity – you take an idea, and write an article around it. Now we have spoken about what goes into the articles before (and I talk about in point 3 below in a bit more detail) but blogging involves a lot more elements than just writing the article. Apart from writing the stuff, you need to …
Get to grips the dark art of marketing, online promotion and social media
Attract new followers each and every week
Have some business sense and be able to turn visitors to landlords making contact with you
They need to learn how to make things happen
Be patient
.. but do it well, and I can assure you, you won't get any business for the first six months, but between months six and eighteen, if you have been doing it correctly, you can organically grow your lettings agency by 20% to 30% a YEAR.
So, you know what looks good, let us see what bad looks like, so here are 7 signs that you're NOT a great blogger.
1. You're not publishing habitually
Page One stuff, but some letting agents still forget that publishing habitually is, essentially, your main task as a blogger. If you don't publish habitually, landlords will lose track of what is going on with your blog, or even forget about you completely, which is not great for getting more landlords. So, if you ever do get unfocused and don't bring out a post for a longer while, just return to your everyday blogging like nothing ever happened. But for Pete's sake, never ever say … "sorry I haven't posted for a while" Why? The reason is simple because most landlords won't even notice that you were gone, unless you tell them.
2. You haven't got enough time to blog
Time management may sound like something only letting agents loaded with extreme amount of work need, but it's not the case. Whatever you do you can always use a time management system to make you more effective. Make it become a habit, put a reminder on your Outlook Calendar because let's face it, there are a lot of tasks a blogger needs to do on a daily basis, and if you try to keep it all in your head, you'll inevitably forget some of it.
3. Your blog subjects are rubbish, dull and uninteresting
If the articles you write in your blog, talk about the following, then you are wasting your time .. (and the likely response from landlords reading it)
Landlord and tenant law (no section21's, no section 8's .. that is what I pay you for)
Changes in law … fine, say it once, but don't bang on about
Cut and Paste articles about the UK housing market from Savills, Nat West etc etc
ARLA articles
Cold weather is on it's way! Read our guide to helping you through the winter months as a landlord (sorry .. that's what I pay the agent for)
RM vs Zoops vs OTM .. which is the best (landlords don't care)
Guides on how to let your home (that's what they pay you for)
Mould .. 10 ways to get rid of it (I will tell you one .. open the bloody windows!)
Dull info on what has let this week (unless its my house .. I don't care)
What is considered fair wear and tear? ( the landlords will be buzzing with this one .. NOT)
Why choose XXXXXXX lettings agency? (no one likes to be sold to)
Is your agent in a redress scheme (I would hope my letting agent doesn't need to change clothes during the day… !)
Guides on how to find the right tenant (dullsville)
Wasp's in the roof .. who is responsible? (that is what I pay you for Mr(s) letting agent .. it certainly doesn't keep me up at night and it won't make me swap agents)
We have just been awarded the "Connected Innovation" Award at the local Rotary / Pride of small town in deepest Sussex (No I don't know what it means, and how it will help you let my house …. I got a gold star from Mrs Wfor filling the dishwasher the other day .. does that count?)
Articles like 'Would you live in the house you let? (Of course I wouldn't!.. next)
'Landlords top 10 tips' (face it, they are the same 10 tips with a different order, depending on which week of the month it is)
'Articles that brag .. ie It's great to see that over the last two months we have achieved No.1 market share within LE2 for new instructions. (Us British don't like a show off) or 'A fantastic week so far yet again with landlords flocking to our unique Lettings service. Well done to the team!' (so get on and let mine!)
So what does great look like …. It's simple, one meaty article about the local property market each week and three or four buy to let deals of the week … post daily and you will succeed.
The writing of the article is something I talk about at length on my blog in previous posts. It must have the title with geo-referencing EVERYTIME (call me if you want to know what that means) and it must have the four elements to it, otherwise it simply won't work (it will offend or be so dull people will slip into coma before the end of the article). I talked about the four elements a few times a few months ago … go back and have a look (and even then, remember if you are rubbish at writing or don't have the time, many agents ask me to do it for them anyway)
4. You don't promote your blog
I'm sorry, but there is no point having a great blog, if nobody knows about it.
Use my technique of capturing the email addresses of most of the landlords in your area, then sending them weekly links to your blog, running your meaty article as the lead story and the sub stories being your BTL deals works a treat.
It also helps with 'Search Engine Optimwaztersname' .. SEO to you and me, if you believe that SEO is not relevant and that content is the only king, then there is no point in providing great content if you're going to do nothing to promote it in the search engines.
Every post you publish should include some form of SEO, even if it's just some simple keywords on your blog (Blogspot and WordPress allow you put them in .. easypeasey). Remember that Google is the biggest provider of traffic online, so Google's own Blogspot is the place to host it.
Also, I coach the agents who come on my courses to post the same article many different ways on Linkedin, Google+ and Twitter …. but be very careful of Facebook .. letting agents and Facebook DO NOT mix.
Newspaper editorials are proving a good way, as are local newsletters (just recycle the articles you put on the blog) .. these are manual signposts to your blog. You can even get Rightmove to feed people to your blog.
5. You don't convert followers to landlords ringing you up
`There is no point in being your town's property Guru, with you putting your life and soul into a blog, if the landlords suck you dry of info, then go to the opposition.
You might think this is the hardest part, far from it, it is in fact the easiest to do …
Final thoughts ..
OK, that is how not to blog…. now you know what NOT to do, and if you have read my 180+ articles on how to do it on my blog (link below), then go and fill your boots. However, if you want help, I can teach you how to do it on one of my courses or if that's too much work, I can write the articles for you. .. but whatever you do, just start it …
Why? .. because there can only be one guru, one property blog, one leader of landlords in a town … if you don't start it, then the lettings guy down the road will. .. and you don't need me to tell you how it works, most of you are connected up with me on Linkedin, look at the testimonials on it … but I warn you before you start .. it's hard work, it takes effort, you won't get one piece of business for months (but if you do it's a fantastic bonus!), but do it right and not half heartedly, it will be slow to start with but when it kicks in, it really kicks in …. but if that all sounds like too much hard work .. go back to ringing Gumtree landlords and stuffing thousands of 'Landlords Wanted' leaflets through letter boxes, like you did last month, and the month before, in fact six months ago, 12 months ago , 24 months ago …. or you can change?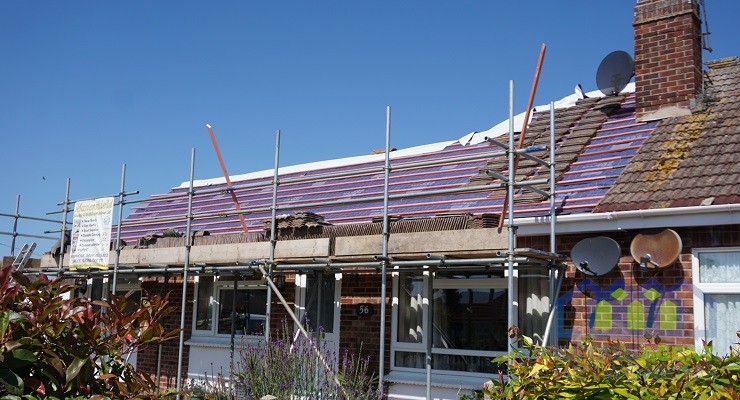 Similar to the external face of your house walls, your roof is also constantly exposed to the external environment — which includes everything from harsh sunlight, rain, debris, and even insects. The purpose of the roof is to protect you from the impact of all those things. This exposure leads to severe wear and tear…
Read More

→