"There is only one boss. The customer. And he can fire everybody in the company from the chairman on down, simply by spending his money somewhere else."
Sam Walton, Founder of Wal-Mart
Property management should be a source of recurring revenue for your business, a stabiliser against market turbulence that affects the transactional sides of your business and a source of leads for transactions.
But do you really know what your property management clients really want?
In a survey of 2,951 landlords carried out by The Property Academy* the two greatest areas of concern to landlords were void periods and property damage.
Chart: What Is Your Current Primary Concern As A Landlord*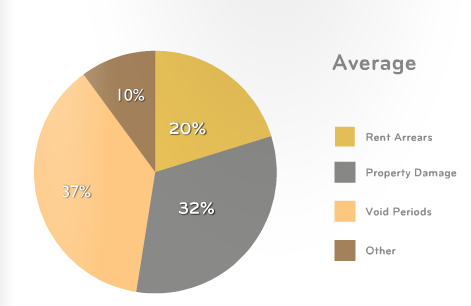 The ranking of concerns were consistent across intentional and accidental landlords albeit that accidental landlords are more concerned about property damage than intentional landlords.
Our recent
Rental Repairs Survey
indicates that landlords have good reason to be concerned about property damage with (on average) each managed rental property requiring 2.8 repairs per year.
The
Fixflo Rental Repairs Survey
also highlights that landlords are willing to walk away if their repairs expectations are not met with 56% of surveyed property managers knowing a landlord who switched letting agency due to a repair related issue.
The Silver Lining
Winning new instructions can be tricky as it's hard to show how your service compares to that of your competitors without giving a landlord the chance to experience it.
Your marketing materials are the key to bridging that gap.
The Property Academy Survey* indicates that 87% of landlords read the literature provided by a letting agency when they valued their property.
As a landlord I have experienced a wide range in the quality and quantity of information provided by letting agents valuing my properties for rent.
The one constant, however, is that the marketing materials I received focused on the agency's experience and credentials with very limited space being devoted to addressing my key concerns.
Critically reviewing and enhancing your marketing materials to address landlord concerns is your opportunity to win more instructions.
Void Periods
While your property management team may deliver a great service to tenants do you have anything you can point to in order to back up your claims.
Jungle Property in Glastonbury
surveys each tenant every three months with one simple question: "
On a scale of 1 – 10 how happy are you with your property and tenancy
".
This gives them the statistics they need to show landlords why they are the best choice for any prospective landlord in their area.
Property Damage
Small issues can become more severe (and costly) very quickly.  Instead of saying that you have a responsive property management team can you show a landlord the processes and systems you have in place for tenants to report repairs quickly and easily?
Emergencies
The nightmare scenario for any landlord is that something major happens to their property.  Use your marketing materials to highlight the information you give to every tenant to protect themselves and the landlord's property if an emergency arises.
Commenting on the opportunity for letting agents, Nicky Stevenson of The Property Academy noted:
'One of the key findings from our Landlord and Tenant Survey 2014 that we presented at Property Management LIVE was the differences in primary concern for the investor landlord and the non intentional landlord. It was also noted that communication and problem solving were the poorest rated aspects of customer service received by landlords and tenants from their managing agent. Knowing your landlords key concerns and how you can improve on your service is important to keeping your clients happy. For further insights and the full Landlord and Tenant Survey results, please visit
www.propertyacademy.co.uk/surveys
"
*Data and chart included with the kind permission of The Property Academy