The gender rental gap – female renters spending 14% more of salary than males
The latest research by leading room share platform, ideal flatmate, has looked at the vast gap between the rental affordability of male and female workers in the UK and how this impacts their rental potential across the UK rental market.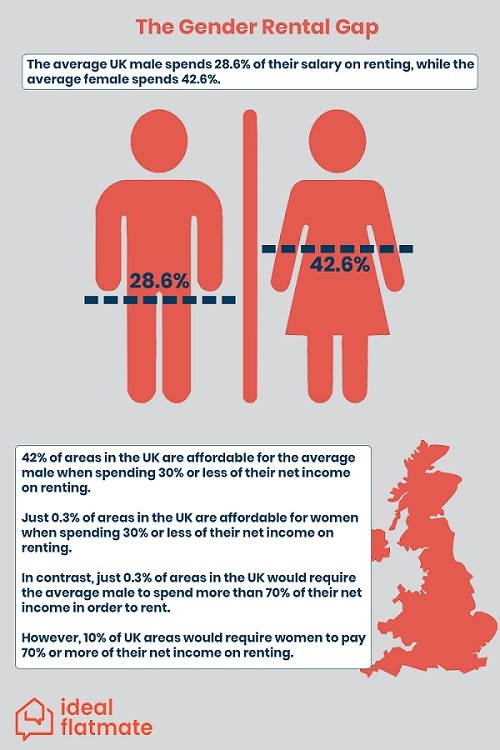 ideal flatmate looked at the current net monthly wage in each area across the UK for those that live there and what percentage of salary was required to rent in the local market, as well as how much of the UK fell into each affordability bracket for both men and women.
The data shows that across the UK, the average male is required to spend 28.6% of their salary on rent, while this climbs to 42.6% for the average female.
This gap is at its largest in England at 17.9%, with men spending 35.5% of their salary on rent while women fork out 53.4%.
The smallest gap is in Wales, with women spending 35.3% while men 25.4% –  a 9.8% difference.
When looking at a regional level, the extent of this affordability gap becomes very apparent.
Across the UK, the higher cost of the average male wage means that in 42% of areas they are spending 30% or less of their salary on rent.
In contrast, the average female could afford to pay rent at 30% or less of their salary in just 0.3% of UK areas. An astonishing difference.
A further 39% of areas were home to an average salary and rental cost that saw men pay between 30%-40% of their earnings on rent, while just 26% of areas were affordable enough for women paying the same percentage of wages.
At the other end of the rental affordability scale, just 0.3% of the UK rental market would see men living there pay 70% or more of their salary in rent, while for women, 10% of areas in the UK rental market would require them to pay 70% or more of their salary on rent.
Looking at the areas themselves further demonstrates this gap. Based on the average wage for those living there, East Renfrewshire is the most affordable spot for men with just 17.1% of salary spent on rent each month.
Rhondda Cynon Taf is the most affordable rental market for women, however, it would require them to pay 29.7% of their salary on rent.
In London, male renters in Bexley have it best, paying 39% of their salary on rent, while Greenwich is the most affordable for female renters but requires 58.5% of their salary to rent.
Co-founder of ideal flatmate, Tom Gatzen, commented:
"Despite the spotlight that has focussed on the gender pay gap for quite some time, it's clear there is still a worryingly large disparity between the earnings of female and male workers across the UK.
This isn't simply a case of equal pay but equal opportunity across the board and there is a real lack of this when it comes to rental affordability in particular. Tackling the UK rental market is tough enough as it is without the immediate set back of a 14% reduction in your rental potential due to a lower wage.
As a result of this inferior financial foundation, female workers are forced to either pay far more in rent or be priced out of the market altogether, resulting in a wider search, a longer commute, and a lower quality of life."
Percentage of salary spent on rent by nation & gender

Nation

Male

Female

Difference

England

35.5%

53.4%

17.9%

Wales

25.4%

35.3%

9.8%

Scotland

32.6%

46.7%

14.0%

Northern Ireland

30.5%

40.7%

10.2%

London

56.5%

82.2%

25.7%

United Kingdom

28.6%

42.6%

14.0%

UK regional affordability by rent to salary bracket*

% of salary spent on rent

Male

Female

0 – 30%

42%

0.3%

30 – 40%

39%

26%

40 – 50%

12%

28%

50 – 60%

6%

21%

60 – 70%

1%

14%

70% +

0.3%

10%

London affordability by rent to salary bracket*

% of salary spent on rent

Male

Female

0 – 30%

N/A

N/A

30 – 40%

6.5%

N/A

40 – 50%

35.5%

N/A

50 – 60%

48.4%

3.0%

60 – 70%

6.5%

27.3%

70% +

3.2%

69.7%

*Shows the percentage of UK areas that allow men or women to rent at this proportion of salary to rent. E.g. Men can rent in 41% of UK areas, spending 30% of their salary or less, while only 0.3% of UK areas are affordable for women at this threshold.

Male

Female

Most affordable based on male salary

Most affordable based on female salary

Location

Rent as a % of salary

Location

Rent as a % of salary

East Renfrewshire

17.1%

Rhondda Cynon Taf

29.7%

Copeland

20.4%

Copeland

30.2%

Pendle

20.8%

Blaenau Gwent

30.5%

Rhondda Cynon Taf

21.4%

Carmarthenshire

30.7%

North East Lincolnshire

21.7%

Pendle

31.3%

Darlington

21.9%

Darlington

31.8%

Allerdale

22.2%

Hartlepool

32.0%

Hartlepool

22.3%

Rossendale

32.0%

Fylde

22.4%

County Durham

32.2%

North Lincolnshire

22.50%

Dumfries and Galloway

32.6%

Male

Female

Most affordable based on male salary

Most affordable based on female salary

Location

Rent as a % of salary

Location

Rent as a % of salary

Bexley

39.0%

Greenwich

58.5%

Bromley

40.0%

Bromley

60.2%

Croydon

41.0%

Sutton

60.4%

Richmond upon Thames

42.4%

Croydon

61.0%

Kingston upon Thames

42.8%

Bexley

61.9%

Wandsworth

43.8%

Havering

65.1%

Havering

44.5%

Lewisham

66.1%

Sutton

44.8%

Wandsworth

67.1%

Merton

46.2%

Merton

68.5%

Greenwich

46.6%

Ealing

69.9%