Benefit from understanding the phases of a business
We get many businesses using our platform. From initial start-ups to established brands and national franchisees. Over the last 3 years we have had the privilege of watching them grow and expand.
And what we have noticed is that each business seems to be in a past, present or future juncture of a particular growth phase.
We also understand from developing our software solution, it takes time. To mature from one stage to another. It requires many parts to drive that process forward, from client feedback, existing experience and resources, processes and pure hard graft.
A business will go through a number of stages, start-up, to establishing and expansion phases. Yet the key thing is to understand that you can never go from nothing to established, or nothing to expansion unless you have a bottomless pit of money.
You have to start and go through each stage one at a time. The aim to correctly mature the business through each stage of growth.
According to Harvard business review, this is turned into a decision tree and shown as the typical evolution of small companies.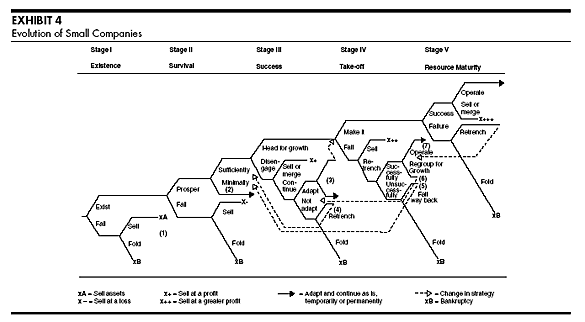 Each evolutionary step has three basic outcomes – success, sale or failure. Successful entrepreneurs generally manage each of these stages well, allowing them to go through the necessary phases.
Within each phase are also a number of high-level milestones defined by the business.
Each milestone, defined by the business owner's experience. Becomes the backbone tasks for the business to progress to the next stage.
Existence Phase
This is the very conception of an idea or birth of a new company.
Planning
Structure of organisation
Seed funding
Implementation and action
Initial market testing
Simple process creation
Survival Phase
Learn what is profitable that meets the needs of your clients.
Aiming for break even
Reality check for the business
Establishing a customer base
Feedback and improvement
Implementation of policies
Branding and marketing presence
Success Phase
Revenues and customers are increasing with many new opportunities and issues. Profits are strong, but competition is surfacing.
Effective management is required
Train and delegate
Better accounting and customer systems
Formal sales and marketing channel
Perfection of processes
Take-Off Phase
This life cycle is characterized by a new period of growth into new markets and distribution channels.
Expansion drive on existing market
Expansion to new markets
Add new products and services to compliant your offering
Seek joint ventures, licensing, new investors
So what makes a successful business?
A successful business, is defined by it's people. The entrepreneurs of these businesses will understand that growth is in phases and stages. Each stage made up of many tasks and decisions.
Forbes did a simple study, looking at successful entrepreneurs and found that they had one thing in common.
It came from the core of these individuals, their desire and passion in the idea or business. The stronger the desire the faster tasks will be carried out.
There is a further difference though. Completing many tasks as possible is not efficient use of time. Successful business owners, will leverage their experience in their decisions and will only carry out tasks that focus on a specific path of growth.
To grow a business, you basically follow a set of processes, that are defined by decisions and grown by completing tasks. These tasks should be in alignment with the high-level planned phases of the enterprise.
Utilise your experience to create your own stages within these phases. Try to understand which phase your business is at present and work out the important tasks that are needed to move you to better growth.
And on the reverse side, be strict and remove any task that does not assist in this process, you will only find out later on that it was a waste of time and slowed down your progression to the next plateau of your business.
Daily bite-sized proptech and property news in partnership with Proptech-X. Blend of short-tail and long-tail lead generation strategies is crucial for estate agents In the ever-evolving estate agency sector, the game-changing role of digital marketing is more evident than ever. Recognising the significance of a well-rounded approach, today's estate agents are urged to embrace…
Read More

→