BREAKING NEWS – top 5 stories 29/03/2021
STOP PRESS! HOUSING MARKET HAS RUN OUT OF PROPERTY TO SELL BY 50% – IT IS OFFICIAL
According to latest analysis by TwentyEA, the amount of housing stock available to sell is at an all time low. It reports that,
'The South West has the lowest level of available stock at just 2.2 months and the whole of England and Wales (with the exception of London) has just between 2.2 and 2.4 months of stock left. This means that available stock numbers in months are down by around 50% on historical "norms". '
Also, it goes on to report that,
'At this stage, if you are thinking like me, you will be saying to yourself we are not going to run out of property to sell as Estate Agents will continue to bring in new instructions onto the market for sale. The problem is that whilst we know that supply of property will rise in the coming months, so will demand.
In fact, the problem is getting worse right now. If you exclude London, so far this month we have seen nearly 102,000 sales agreed and only 99,500 new instructions for sale.
So sadly, we have already run out of stock (or are close enough to it to make a big difference to how buyers act) in many parts of the country. There are ominous signs here that there will be significant house price inflation as too much demand chases a decreasing supply of quality homes at a time when the government policy is to extend home ownership'.
Could it be that the Chancellor's generosity will bite him on the bum? With rampant house inflation and maybe a 1988 re-run, when all of a sudden, the market collapses as prices are too high and everyone who was ever going to move – just did.
Leaving a trickle of new business amidst a landscape of super-heated properties that buyers are wary of buying. Having worked through that Chancellor of an Exchequer exploding bomb of a market I sincerely hope that is not the case – let us see
THE 29th of MARCH & RULE OF SIX – WILL IT BE FULL THROTTLE FOR HOUSING MARKET?
So now we are not in Lockdown 3.0 (there are some regional variances) and we can now bleary-eyed go and play golf and meet up and shop more freely, and will this now open up the housing market even more? With all shops on the high street are set to re-open until 10 pm from 12th of April.
'Travel The 'stay at home' rule will end on 29 March, but many restrictions will remain in place. People should continue to work from home where they can and minimise the number of journeys they make where possible, avoiding travel at the busiest times and routes. Travel abroad will continue to be prohibited, other than for a small number of permitted reasons. Holidays abroad will not be allowed, given it will remain important to manage the risk of imported variants and protect the vaccination programme. The government has launched a new taskforce to review global travel which will report on 12 April.
Social contact The evidence shows that it is safer for people to meet outdoors rather than indoors. And this is why from 29 March, when most schools start to break up for the Easter holidays, outdoor gatherings (including in private gardens) of either 6 people (the Rule of 6) or 2 households will also be allowed, making it easier for friends and families to meet outside.
Business and activities Outdoor sports facilities such as tennis and basketball courts, and open-air swimming pools, will also be allowed to reopen, and people will be able to take part in formally organised outdoor sports.'
Government link https://www.gov.uk/government/publications/covid-19-response-spring-2021/covid-19-response-spring-2021-summary
ZOOPLA EX-OWNER IS IN THE CAZOO MONEY ONCE AGAIN
Alexander Chesterman – the ex-Founder of Zoopla, which he floated on the stock exchange for £1BN, is in the money again as Cazoo, which he founded.
Cazoo has just announced a $7BN valuation tie up in America which will see about $1BN of capital into the UK coffers. For all those who want a blueprint of how to scale a business and do it digitally without offices and branches – Mr Chesterman is that person. I think he raised £80M before even launching Cazoo which just shows what personal branding and successful teams can do.
ALL BOOM NO GLOOM FOR THOSE WITH SHARES IN SOME NATIONAL HOME BUILDERS
Despite Covid-19, three lockdowns and a turbulent year, those with shares in some of the developers in the UK have something to smile about. The extension of the stamp duty deadline (many builders used to give concessions where they 'paid' an element or all of the SDLT duty) and the rising market, has changed the fortunes of builders whose share prices had in 2020 been in the doldrums.
According to the Times this has, 'led Barratt Developments and Persimmon stocks to double in value from their pandemic lows. Taylor Wimpey and Bellway are up 78 per cent'.
BOOMIN TO LAUNCH IN FOUR DAYS – FRIDAY THE 2nd OF APRIL
Long awaited, the mighty forces of Boomin are officially, unleashed officially on Friday, will they be sending out Easter eggs as part of their charm offensive, let us wait and see, whichever way they seek to move forward, it is certain that a media circus is about to descend – which to my mind is no bad thing as audience is everything with a new venture.
If you have a view – please let us all know by emailing me at [email protected] – Andrew Stanton Executive Editor – moving property and proptech forward.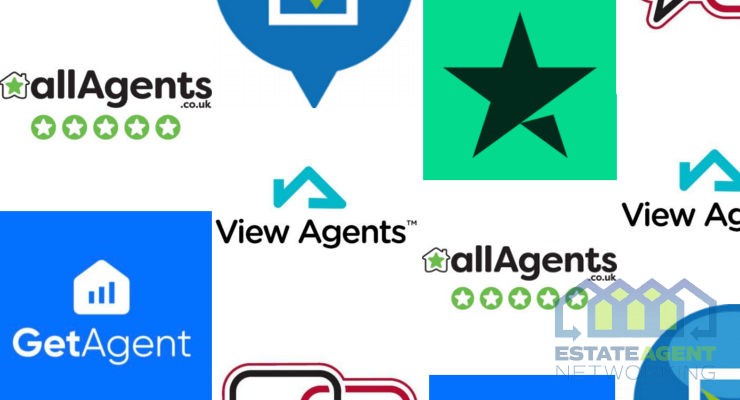 Other than word of mouth, what ways are there for consumers to read up on reviews about their local estate agents? When we are choosing which of the main high street estate agents we are going to use for selling our property, past experiences from their clients can help us to decide which one deserves…
Read More

→