Power station property prices – homeowners are winning with wind farms but coal still causing problems
Despite the war against climate change, the go-ahead has been given for the first coal mine in decades and this could spell trouble for more than the environment, with local homeowners also in the firing line for a decline in property prices.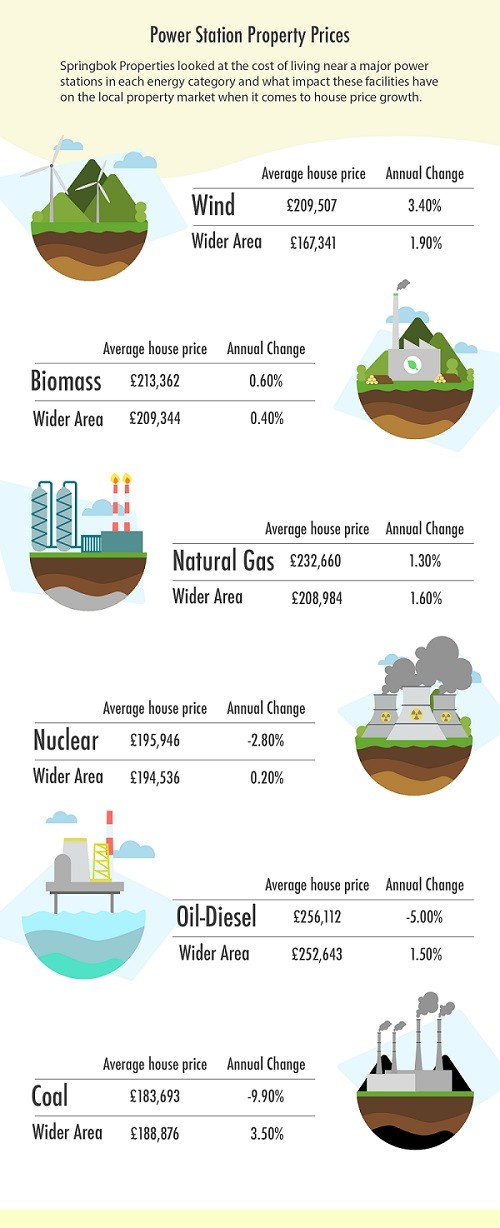 The latest research by national fast sale agent, Springbok Properties, has looked at the property cost of living closeby to a major power station and how this impacts property prices and growth across different types of energy.
Springbok Properties looked at the areas home to the largest power stations across oil and diesel, natural gas, coal, nuclear, biomass and on-shore wind, comparing house prices surrounding each plant and the annual rate of growth compared to the wider area.
With these industries bringing employment and further demand for housing to each local area, the average house price surrounding all types of power plant were higher on average than the surrounding area, bar those living around a coal power station.
However, while the cost of homes may generally be higher, the cost of living close to a power station had varying impacts on house price growth depending on the type of energy that was being produced.
Winning with wind
The research shows that over the last year, those living close to one of the largest wind farms have seen their property price increase by 3.4%, while those in the wider surrounding area have seen an uplift of just 1.9%.
Biomass power plants also seem to have stimulated the property markets surrounding them, with prices up 0.6% to just 0.4% in the wider region.
However, when it comes to natural gas, local homeowners surrounding these power plants have seen their home increase in value on an annual basis, but at just 1.3%, this increase was lower than the 1.6% enjoyed across the wider area.
Failing with fossil fuels
Things could be worse for those living close to a natural gas power plant, they could live by a nuclear, oil-diesel or coal plant.
In the last year, property surrounding nuclear power plants has declined by -2.8% while the wider property market in these areas has crept up by 0.2%.
Homes in the immediate vicinity of oil-diesel power stations has dropped by -5% compared to an uplift of 1.5% in the wider market, while those living near coal-powered stations have experienced the largest decline of all, with property values down -9.9% annually compared to an increase of 3.5% in the wider area.
Founder and CEO of Springbok Properties, Shepherd Ncube, commented:
"It's clear that our more traditional sources of energy such as coal, oil and diesel or nuclear energy are not only detrimental to the environment but the presence of such facilities can have a serious impact on the rate of growth in the local property market.
While they do bring a large level of employment and demand for housing initially, the legacy is below-average growth and in many cases, a decline in property values compared to even the wider areas in which they are located. This is due to a number of factors including the aesthetic appeal of an area, the risk of added pollution and the 'what if' fear of something going wrong at the plant itself.
It is, however, promising to see, that the greener energy outlets, like on-shore wind farms, don't have the same detrimental impact on property prices and can supply sustainable energy without impacting the value of surrounding bricks and mortar."
| | | |
| --- | --- | --- |
| Power Station Type | Average house price | Annual Change |
| Wind | £209,507 | 3.40% |
| Wider Surrounding Area | £167,341 | 1.90% |
| | | |
| Power Station Type | Average house price | Annual Change |
| Biomass | £213,362 | 0.60% |
| Wider Surrounding Area | £209,344 | 0.40% |
| | | |
| Power Station Type | Average house price | Annual Change |
| Natural Gas | £232,660 | 1.30% |
| Wider Surrounding Area | £208,984 | 1.60% |
| | | |
| Power Station Type | Average house price | Annual Change |
| Nuclear | £195,946 | -2.80% |
| Wider Surrounding Area | £194,536 | 0.20% |
| | | |
| Power Station Type | Average house price | Annual Change |
| Oil-Diesel Power Station | £256,112 | -5.00% |
| Wider Surrounding Area | £252,643 | 1.50% |
| | | |
| Power Station Type | Average house price | Annual Change |
| Coal | £183,693 | -9.90% |
| Wider Surrounding Area | £188,876 | 3.50% |