Rewiring may not be the most glamorous part of renovating a house, but it is an absolute necessity. 
As our electricity requirements change over time, so do our electrical systems to cater to those requirements.
This guide will give you ten informative tips that you should know before attempting any rewiring project. 
When considering to do it by yourself
It goes without saying if you intend to do a full or partial rewire of your house, you should know what you're doing. 
Completing electrical work has its risks and if you lack the proper training you can potentially cause yourself harm or damage your property, i.e. carelessly having wires exposed presenting the danger of electrocution or starting a fire. Consider reactive maintenance.
Therefore before attempting rewiring projects alone, it's highly recommended to hire a qualified electrician to inspect your work before and after its completion. 
If you are an electrician, keep your tools at bay can be really important and handy. Consider buying an electricians tool pouch.
Hire a registered installer
If you're doing an electrical job in your home, it has to be inspected, approved and certificated by a registered installer. Approvals can be made from a building control body such as an authority in your area or a 'registered third-party certifier' such as a certified electrician. 
Some notifiable installation jobs are:
A new fuse box or consumer unit

A new circuit for a shower, immersion heater or cooker

Existing circuits that need alterations 
How to keep up to date with building regulations
Rewiring a home requires a cautious strategy, as all electrical installation work must conform to Building regulations and legislation. 
Building regulations dictate standards for construction and alterations for every building in the UK. 
For example, Building Regulations Part P, which deals with electrical safety in domestic dwellings, has made it a priority to protect people from fire and electric shocks by making alterations to kitchens. 
Understand when rewiring is needed
A house that hasn't been renovated for over 20 to 30 years will most likely be in dire need of rewiring according to Amped Electrical. Wiring systems from decades past can prove dangerous as it cannot handle the electrical demands of consumers today.
For example in the 1960s installations using rubber or fabric cabling and mounting main sockets on skirting boards were the norm. 
However, building regulations have changed since then, sockets on a skirting board do not comply with current 17th Edition wiring regulations.
Old homes, old wires
If you're attempting some of the rewirings by yourself in an old house, it's necessary to know there have been some fundamental wire colour changes.
When rewiring inside any panel, you need to understand which each wire and their colour represents. 
If your home is old, then there's a chance it currently has old wire colours which were Black and Red representing "hot wires". Today they have been replaced by blue and brown respectively.   
Today's Colours:
Brown = Live

Blue = Neutral

Bare or green/yellow = Earth
What to focus on when rewiring a house
One of the main reasons that rewiring occurs in the first place is faulty wiring as every year there are 12,500 fires and 750 accidents in peoples homes. Recognising these faults is a strong indication that rewiring is necessary:
Wooden backing and cast iron switches

Broken sockets and fewer than two per room

Flicking or newly fitted light bulbs
Plan your work
If it's time to rewire your home, it's necessary to create a plan of attack based on the two stage-process of rewiring. 
It begins with the 'first fix' which is initially installing the necessary wiring in your home, this includes back boxes for all sockets and switches. Cables run under the floors before furniture and carpets are put in and also through walls before being plastered.
The 'second fix' is when you start fitting sockets, switch plates, light fittings and consumer units along with wiring appliances such as cookers, extractor hoods, the immersion heater and electric fans. 
Costs of rewiring a house
Possibly one of the first questions people ask is how much does rewiring process cost?
The cost is dependent on factors such as the size and location of your house. 
If your home is on the larger side, i.e. 4 to 5 bedrooms then on average the cost is anywhere between £3,500 to £6500. 
As the size of your house increases, its rewiring costs also increase along with the time required.
On average it takes between 4-7 days to rewire a 1 bedroom house and 6-10 days to rewire a 3 bedroom house.
Your UK region is also going to influence prices due to the differences in contractor costs.
Saving costs when hiring electricians
Electricians charging you for their services are generally done by the hour or per day (£20-60 Per hour/ £180-£350 Per day) rather than a set cost for a specific job.  
If your electrician gets paid on an hourly basis you can reduce costs by cutting down the time needed to finish the job. Some quick preparations you can make would be moving furniture and lifting floorboards giving the electrician more access before the rewiring takes place. 
Ignore generic quotes
When obtaining your rewiring cost estimates, it is essential to ask for a selection of quotations in writing instead of a generic quote. 
Should you opt for a quote that is immediate and straightforward, it may cause negative repercussions such as electricians charging you additional hidden costs later on. 
A good quote should have an itemised list with a cost breakdown giving transparency and letting the job run without a hitch.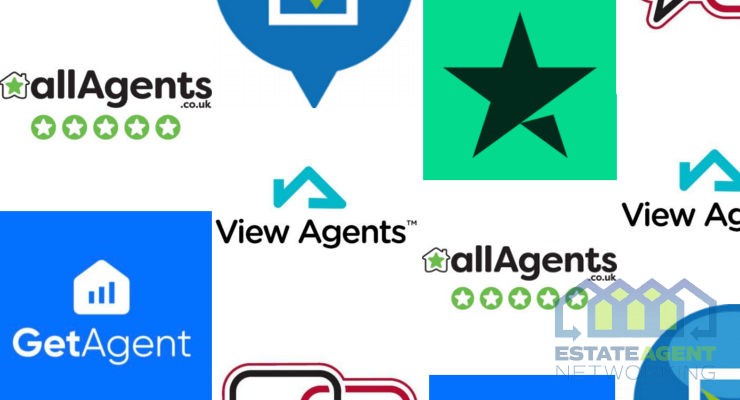 Other than word of mouth, what ways are there for consumers to read up on reviews about their local estate agents? When we are choosing which of the main high street estate agents we are going to use for selling our property, past experiences from their clients can help us to decide which one deserves…
Read More

→