Property in Spain's coastal regions continue to be a major draw for international buyers
Spain's coastal destinations are attracting increasing numbers of mid to high-end foreign buyers as the second home market goes from strength to strength.
Figures from Lucas Fox's latest Market Reports show that the number of buyers in the most sought-after coastal regions – the Costa Brava, Costa del Sol, Sitges and Ibiza – increased by just over 51% during 2018. The value of sales in these areas went up by 88%. The vast majority of buyers were foreign (86%), mainly from France, Scandinavia and, despite Brexit, also the UK.
It just goes to show that no matter the political situation, the demand for property will always be there, even for holiday homes in coastal regions like the Costa Del Sol in Spain. If you're searching for a property, then Right Casa can help you find your next dream home in Spain.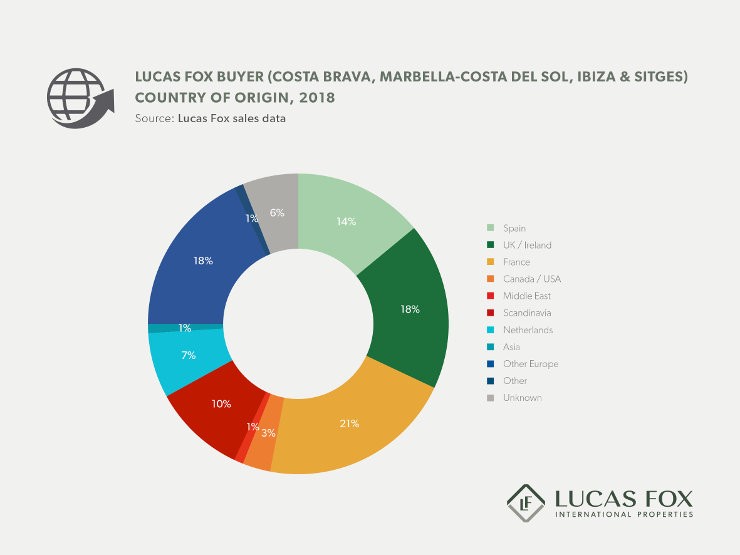 "The increase in sales volume in the Costa Brava in 2018 compared to 2017 was much greater than anticipated," comments Lucas Fox Partner Tom Maidment."Whilst some other regions have seen a drop in sales volume in 2018, the Costa Brava seems to have bucked the trend and is attracting a very specific profile of buyer – the wealthy second home lifestyle investor. International buyers are seeking second homes, predominantly for peak summer use, with greatest demand in the area of coastline around Begur and Palafrugell. The majority are looking for family villas with sea views and private pools, ideally within walking distance of the nearest village or beach." Maidment expects the level of sales activity to continue in 2019. "This first quarter has started very positively so as long as the quality and supply of property – both new build and resale – can satisfy demand there is no reason why the market shouldn't continue along this positive trend in 2019."
The average price of a home sold by Lucas Fox in these coastal areas also increased year-on-year – from €951,253 in 2017 to €1,181,724 in 2018, an increase of just over 24%.
Official figures from Spain's National Institute of Statistics (INE) generally reflect these trends.
In Málaga Province (which includes the Costa del Sol), the volume of sales increased by 5% over 2017, averaging just over 2,700 transactions per month. The number of sales of new homes also went up – by 7%, representing 19% of the total number of sales in 2018, a slightly higher proportion (18%) than in 2017.
Transaction numbers in Girona Province (which includes the Costa Brava) increased by 6% over 2017, averaging 918 sales per month. New home sales soared in this sought-after enclave of Catalonia, up by 17% on the previous year's figures.
After years of steady growth, the Balearic Islands saw a slight decrease in sales transactions, down by 3% over 2017, averaging 1,286 sales per month. The number of sales transactions of new homes remained steady when compared to the same period in 2017, down by 0.9%.
"Ibiza had a positive first half of the year with many German, French and Danish buyers finalising property transactions," explains Lucas Fox Managing Director Rod Jamieson. "There was a slight dip in the last quarter but so far in 2019 we are seeing a number of deals finalised along with some slight price corrections, which we believe will result in more transactions during 2019. Overall the outlook is very encouraging. There are a number of New Development projects underway that should come onto the market during the year that will bring a supply of properties in the mid and prime markets, giving the advantage of being able to buy guaranteed high quality properties without legal issues."
Across the Lucas Fox group, turnover increased by 13.5% during 2018 compared to 2017 and the value of its sales were up by 8%. Lucas Fox prime sales (transactions over €900,000) rose by 28% year-on-year, mainly due to the success of the company's coastal offices.
Shared by: Lucas Fox Press – [email protected]
Gardens, mostly those at the rear of property, offer us a great diversity of options outside just a lawn and patio area. From outside office space to swimming pools, gardens are a great space in which we can add great value to our lifestyles from leisure to work. Planning permission is the phrase used to…
Read More

→